Sustainability Efforts at ISO Realty
Sustainability is important to us. We believe that the land has more and enough to spare for the needs of the people of Idaho as long as resources are managed well and efforts are made to prevent waste and contamination. In our effort to support sustainability, ISO Realty is run on a 14,000 watt solar array that generates enough power for daily business, maintenance on nighttime battery arrays, and still sells back 10's of thousands of watts a day to the public utility. The system provides more than 31 mega watts a year in power.
This seasonally adjusted solar array produces up to 14.4 KW per hour.
Our Miniature Food Forrest
In addition to our power generation efforts, ISO Realty is also in the 7th year of creating a small food forest on one acre of land using permaculture principles. The food forest is an effort to reduce water and fuel use by removing grass, increase the diversity of plants to attract more soil biology and insects, and to provide food locally. There are over 100 edible plants, shrubs, and ground covers on the property with plans for many more. We believe that the closer food is produced to where it is used, the less fuel and resources are needed.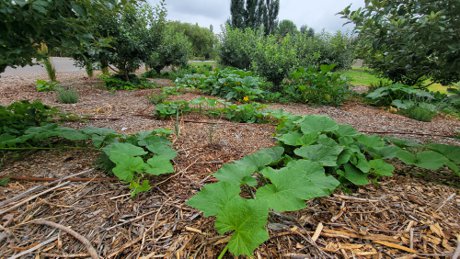 Apple Orchard with squash, honey berry, garlic, black current, and lavender.
Only woodchips and compost are use to sustain the growing food forest.
Blackberries, Raspberries, and Honeyberries attract pollinators.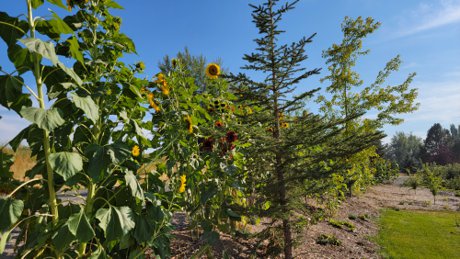 Sunflowers attract pollinators and birds.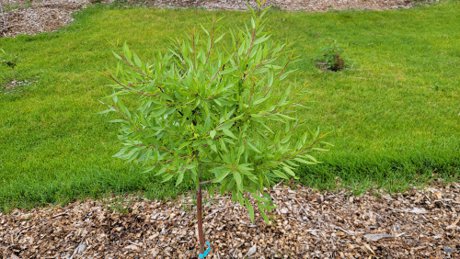 Cold hardy almond trees.
Many varieties of Elderberry are medicinal.
Groundcovers provide food and reduce noxious weeds like field bind weed.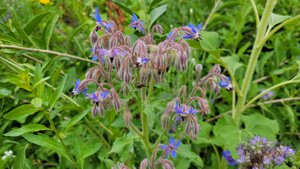 Many flowers attract pollinators, provide medicine, and beautify the forest.
These flowers and goji berries are very nutritious.
Growing Every Year
Every year we increase the number of trees, plants, shrubs and biodiversity to the food forest. Stay tuned as the forest grows and matures.