Search the Idaho MLS for Real Estate
You can search the Idaho MLS for real estate using the tool above. First select the location. You can search all counties and cities or you can hold down the control key while you click on only the cities and counties you want. Then either hit search for a list of homes, or click on Map Search to see the results of your search on a map of Idaho.
Search Results in List Format
The list format of our Idaho MLS search results gives you a list with one picture and basic information of the property. When you click on a property it will display a detailed view of the listing information.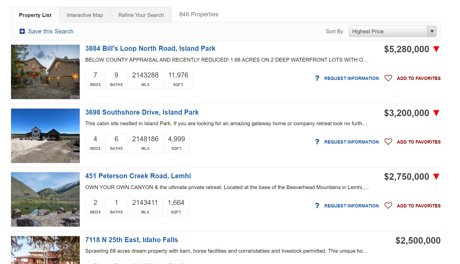 Search Results in Map Format
If you would like to see your Idaho MLS search results in relation to where each property is on the map, choose Map Search. You will se dots where each property is on the map. Putting your mouse over a property will reveal more details. Clicking on the dot twill take you to the property detail page.